STAY GROUNDED is a global network of more than 200 member organisations, among them local airport opposition and climate justice groups, NGOs, trade unions, initiatives fostering alternatives to aviation like night trains, and organisations supporting communities which struggle against offset projects or biofuel plantations. Also individual activists, academics, trade unionists and interested people can contribute to the network.
STAY GROUNDED aims to exchange experiences, support each other, and campaign together for a reduction of aviation and its negative impacts. We also engage in fighting problematic climate strategies like offsetting emissions and biofuels. Our vision is a form of mobility that rests inside the planetary boundaries and allows a livable future for us and our children.
In order to build political pressure, we need to be many.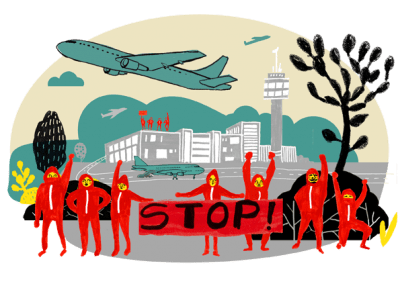 The Stay Grounded network consists more than 200 member organisations and 4 regional groups around the world 
Aviation is the most climate damaging form of transport and one of the fastest growing sources of greenhouse gas emissions. While only a wealthy minority flies, it is mostly non-flyers who bear the brunt of the climate crisis.
Business as usual is not an option. We therefore stand for the following 13 steps to transform transport, society and the economy to be just and environmentally sound.
Stay Grounded Team & Contacts
Stay Grounded consists of many parts: the campaigner's team, the coordination team "turtles", regional teams and of course our members. Find out here who we are and how to get in contact with us.
The Stay Grounded Network is legally hosted by the Austrian collective Periskop. Periskop is a non-profit association and works on a non-profit basis.
Our work is mainly financed by donations and foundation funding. We are aware that money generated within the capitalist system is almost always associated with antisocial, unecological and undemocratic economic practices, or at least historically associated with values and practices that are contrary to our work. With this in mind,  we want to use money received to advance our social, ecological and democratic goals. It is therefore crucial for us that donors have as little influence as possible on our projects, our content and our activities. We do not take money from companies whose main purpose is contrary to our goals (e.g. fossil fuel companies or those associated with anti-democratic and racist practices).
You can support our work with your donation and help us become even more independent.
Currently we are funded by the following foundations:
Campaigns and topics
 Webinars and Conferences 
 Actions 
Frequently Asked Questions about Aviation 
 News & Blog
 Our Publications
 Calendar for webinars and events
Press Contact:
press[at]stay-grounded[dot]org
+43670 353 43 11 (for media inquiries only)
Find photos for free use on Flickr (attribution to photographer).
Follow our Twitter channels for the latest news.
Subscribe to our press list and stay up to date HERE (link to form)
Press releases HERE (link or pictures of newest press releases, click on link to all)
Press review HERE (link or pictures of newest articles , click on link to all)