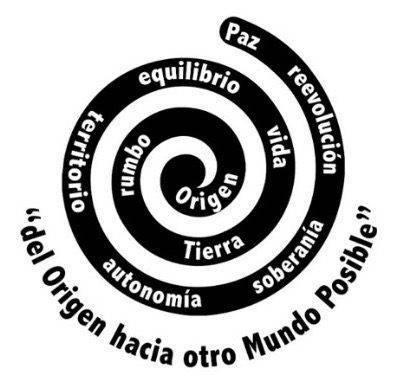 Date
Jan 27 2021
Expired!
Time
CST
10:00 am - 12:00 pm
World Social Forum 2021: Thematic Space of Ancestral Indigenous Peoples : Dialogue Table "Put our word on the table"
***Castellano abajo***
January 27th 2021 from 10:00 am to 12:00 pm (CST, central Mexico time)
languages: English, Spanish, French, Portuguese
Links and Information:
– Event website
– Additional information and registration on the website: www.wsf2021.net
– Live-stream on the Youtube channel of CPOOEM

co-organized by: Coordinadora de Pueblos y Organizaciones del Oriente del Estado de México en Defensa de la Tierra, el Agua y su Cultura, Colectivo El Zenzontle/Casa de los Pueblos México
Twenty years after its beginning, you will hear from the voice of our companion Gabriela Vega Tellez of the Coordinadora de Pueblos del Oriente del Estado de México (Coordination of Indigenous Peoples and Organisations Eastern Mexico State), the invitation, the data, the reasons why the original peoples will raise their voice to the world. Gabriela's organization is one of the organizations that has fought against the harmful effects of aviation on the peoples of Mexico, both in the region of the Valley of Mexico and throughout the country, the continent and the world. Let us now listen to Gabriela.
This is the 20th anniversary of the creation of the World Social Forum (WSF) as a counterpart to the Economic Forum in Davos, Switzerland and against the Capitalist-Neoliberal System, which is why from January 23rd to 31st a Virtual Commemorative Forum will be held as part of the process towards its 14th face-to-face edition in Mexico 2022.
From the facilitation of the thematic space of Ancestral Original Peoples, we have been carrying out a series of Conversations and Meetings during 2019-2020 and that we will continue throughout 2021, to contribute to make visible the true situation that we suffer, having counted for it with the participation of peoples of the Abyanáhuac Continent or America and other parts of the world as well as with the collaboration of commentators; this effort has resulted in a document-synthesis which takes up thoughts, feelings and proposals summarized in the voices of the participating peoples and which we invite you to analyze collectively in a Dialogue Table in the Virtual Forum, which will be the basis of a consensus Declaration.
IN THIS VIRTUAL MEMORIAL FORUM 2021, LET'S MAKE POSSIBLE THE AGENCY OF THE PEOPLES IN THE STRUGGLE WHO ARE FACING THE HEALTH, SOCIAL, ECONOMIC AND ECOLOGICAL CRISES IN THE WORLD; RESISTING and REBELLING AGAINST DISPLACEMENT, EXPLOITATION, DISCRIMINATION, RACISM and ALL FORMS OF WAR OF EXTERMINATION. Their contributions in the defense and preservation of life and their sustained struggle over different generations for a dignified life for all are immeasurable.
OPEN TO COMMUNITIES, VILLAGES, COLLECTIVES, STUDENTS, DEFENSORS AND ACTIVISTS
WHO ARE INVOLVED IN THE STRUGGLE OF THE INDIGENOUS PEOPLES
In Memoriam HERIBERTO SALAS AMAC
Foro Social Mundial 2021: 

Mesa de Diálogo del Espacio Temático de Pueblos Originarios Ancestrales del FSM-Virtual

"Poner nuestra palabra sobre la mesa"
27 de enero de 2021 de 10:00 am a 12:00 pm (CST, hora del centro de México)
idiomas: Inglés, español, francés, portugués
Enlaces e información:
– Sitio web del evento
– Información adicional e inscripción en la página web: www.wsf2021.net
– Transmisión en directo en el canal de Youtube del CPOOEM
coorganizado por: Coordinadora de Pueblos y Organizaciones del Oriente del Estado de México en Defensa de la Tierra, el Agua y su Cultura, Colectivo El Zenzontle/Casa de los Pueblos México
A 20 años de su inicio, escucharán ustedes de la voz de la compañera Gabriela Vega Téllez de la Coordinadora de Pueblos del Oriente del Estado de México, la invitación, los datos, las razones por las cuales los pueblos originarios elevarán su voz al mundo. La organización de Gabriela, es una de las organizaciones que ha luchado en contra de los efectos dañinos de la aviación sobre los pueblos en México, tanto en la región de la Cuenca del Valle de México como en todo el país, en el continente y en el mundo. Escuchemos ahora a Gabriela.
Este 2021 se cumplen 20 años de la creación del FORO SOCIAL MUNDIAL como contraparte del Foro Económico de Davos, Suiza y contra el Sistema Capitalista-Neoliberal, razón por la cual del 23 al 31 de enero se llevará a cabo un Foro Virtual Conmemorativo que es parte del proceso hacia su edición presencial número XIV en México-2022.
Desde la facilitación del espacio temático de Pueblos Originarios Ancestrales, hemos venido realizando una serie de Conversatorios y Encuentros durante 2019-2020 y que continuaremos a lo largo del 2021, para contribuir a visibilizar la verdadera situación que padecemos, habiendo contado para ello con la participación de pueblos del Continente Abyanáhuac o América y de otras partes del mundo así como con la colaboración de comentaristas; esfuerzo del cual emana un documento-síntesis que retoma pensamientos, sentires y propuestas resumidos en las voces de los pueblos participantes y que invitamos ampliamente a analizar colectivamente en una MESA DE DIÁLOGO EN EL FORO VIRTUAL, lo que será la base de una Declaración consensuada.
EN ESTE FORO VIRTUAL CONMEMORATIVO 2021, HAGAMOS POSIBLE EL PROTAGONISMO DE LOS PUEBLOS EN LUCHA QUE EN EL MUNDO ENFRENTAN LAS CRISIS SANITARIA, SOCIAL, ECONÓMICA y ECOLÓGICA; QUE RESISTEN y SE REBELAN AL DESPOJO, LA EXPLOTACIÓN, LA DISCRIMINACIÓN, EL RACISMO y A TODAS LAS FORMAS DE GUERRA DE EXTERMINIO. Son inconmensurables sus aportes en la defensa y preservación de la vida y su lucha sostenida a lo largo de diferentes generaciones por una vida digna para tod@s.
"del Origen hacia otro Mundo Posible"
ABIERTO A COMUNIDADES, PUEBLOS, COLECTIV@S, ESTUDIOSOS, DEFENSOR@S y ACTIVISTAS
QUE SE AUTO-CONVOQUEN EN LA LUCHA DE LOS PUEBLOS ORIGINARIOS
In Memoriam HERIBERTO SALAS AMAC