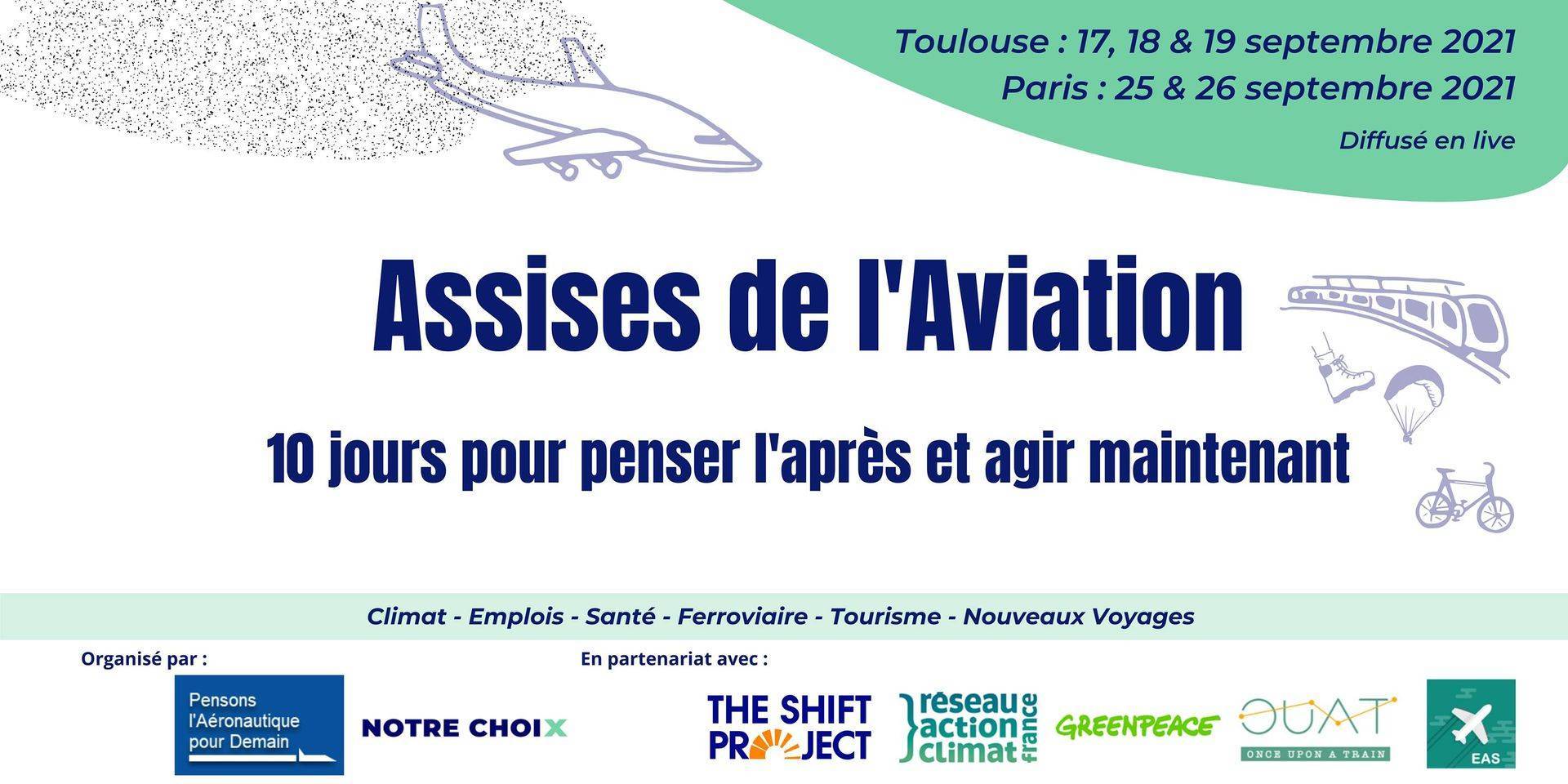 Date
Sep 17 2021
Expired!
Aviation Conference Toulouse and Paris – 10 days to think about the future and act now
From 17 to 26 September 2021, the Association Notre Choix and the Pensons l'Aéronautique pour Demain (PAD) collective are joining forces to organize the Assises de l'aviation : https://www.assises-aviation.com
These Assises are an opportunity to address three hot topics of 2021: climate, employment and new travel! The principle? Devote 10 days to thinking about the future and acting now!
—————————
> Why a conference? 🧐
For several months, the debate has been raging between pro- and anti-aircraft on the future of the aeronautics sector. There are two opposing views: a saving technology or the necessary reduction in size.
But in all cases, the observation is the same: faced with global warming, the aeronautics sector must act and do its part to reduce its carbon emissions and pollution.
Another way (to conflicts?) is to work together to achieve these objectives.
This is what Notre Choix and the PAD collective have done. They have joined forces to propose alternatives and influence the public debate in a single event that will take place in Toulouse and Paris from 17 to 26 September 2021.
—————————
> On the programme? 🗓
During the weekends of 17-19 and 25-26 September, round tables, workshops and animations will be held: everything is accessible in person (with the exception of Covid). Some of the round tables will be broadcast live so that everyone can attend! We have selected experts who are happy to share their point of view: employees in the sector, scientists, NGOs, sociologists, committed citizens, etc.
In between the two weekends, we will organise replays and online workshops to reflect on the world of tomorrow!
📣 80 speakers // We have asked the greatest experts in aviation, sustainable tourism and climate issues to come and discuss with you during the 10 days of the conference!
🎙 16 Round Tables // We are drawing up a report and looking for solutions concerning the place that the aircraft occupies in the French industry and in the lives of citizens: from the impact on the sector's employees to a reflection on travel and tourism in the world of tomorrow, not forgetting reflections on the climate, (almost) all subjects are covered!
🛠 5 Workshops // Are you looking for concrete actions? Not completely sure you understand the implications of global warming, or want to share your vision of tomorrow's mobility? Take part in our workshops to exchange with the organisers!
💃 Animations // Of course we want you to stay with us all weekend long, so we've put together a lot of fun animations.
☀️ Forum // Because our partners are the best, we will be highlighting them and holding stands: come and meet them!
More details on our website: https://www.assises-aviation.com and our Facebook page https://www.facebook.com/events/assises-aviation
—————————
> Practical information :
❤️ Sanitary measures:
The event will take place in compliance with all sanitary measures in force. We have thought of many elements: adaptation of the capacity of the different areas, marking on the ground to indicate the direction of circulation, application of the rules of social distancing, provision of hydroalcoholic gel, disinfection of the areas… #covid
—————————
⏱ Times of the Assises:
In Toulouse:
Friday 17: from 6pm to 9pm
Saturday 18: from 10am to 6pm
Sunday 19: from 10am to 12am
During the week (online):
Monday 20th to Friday 25th: at 7pm
In Paris :
Saturday 25 and Sunday 26: 10am to 6pm
—————————
🎫 Ticketing
Free entry but limited places → Remember to register! The event is free.
Registration and information about the programme, the speakers, our partners and the philosophy of the event: www.assises-aviation.com
🚈 Access
Toulouse and Paris: https://www.assises-aviation.com
#AssisesAviation