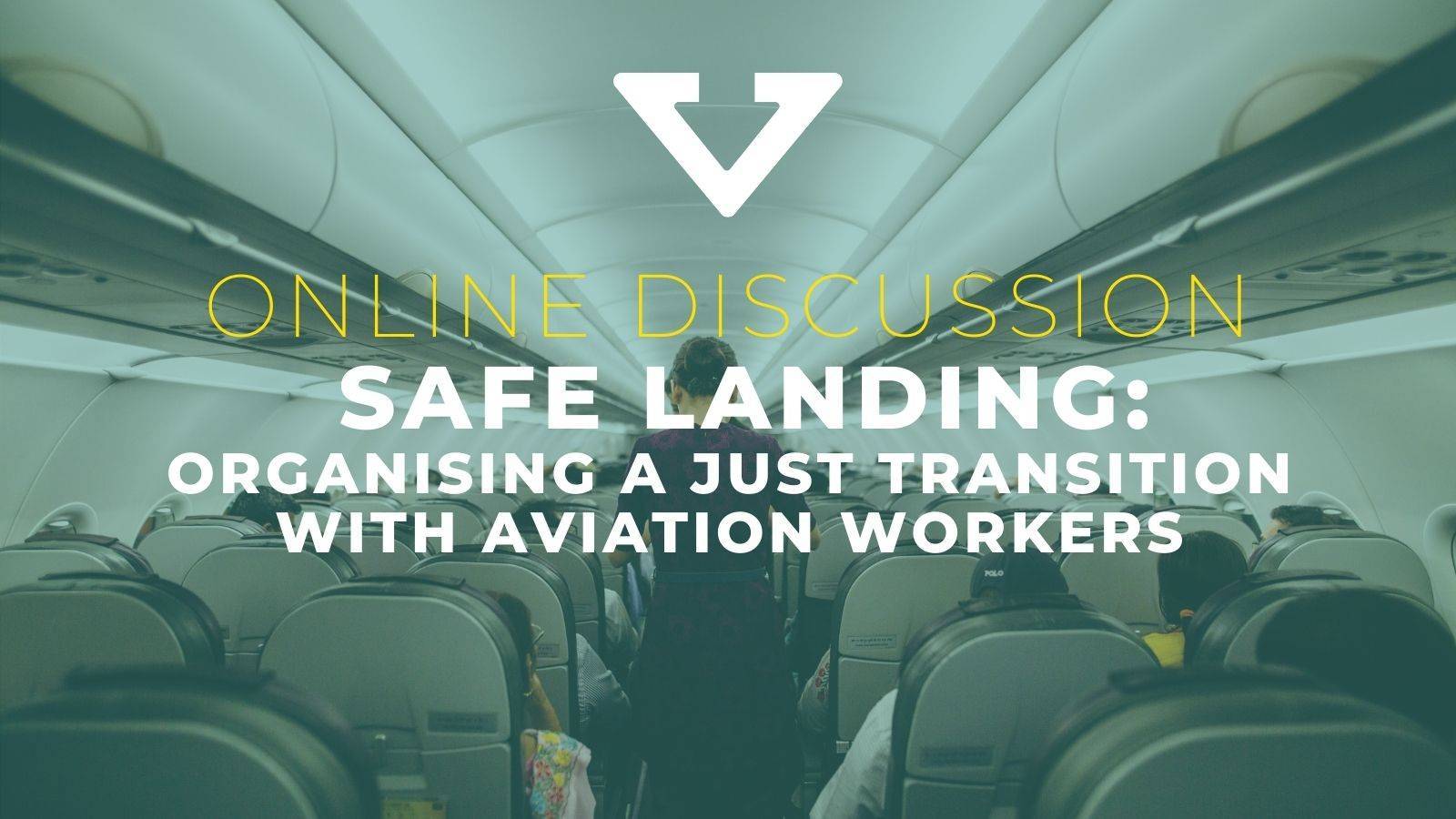 Date
Apr 30 2021
Expired!
Safe Landing: Organizing a Just Transition with Aviation Workers
— español abajo —
Online Panel Discussion
with English-Spanish Interpretation
Friday 30th of April, 3-5 pm London I 4-6 pm Berlin I 9-11 am Mexico City I 7.30-9.30 pm Mumbai
Please register here until Thursday 29th of April
Most flights are grounded due to Covid-19, posing enormous difficulties for workers in the sector. Yet, in order to effectively counter the climate crisis, aviation and mass-tourism need to be limited in the long-term. How could a transition process including job shifts be organised? What are obstacles and lessons learned from coal transitions?
– Magdalena Heuwieser, DE, Stay Grounded & Pablo Muñoz Nieto, ES, Ecologistas en Acción, presenting the "Just Transition of Aviation" discussion paper
– Eoin Coates, IE, Head of Aviation in the European Transport Workers Federation, about the long-term plan of trade unions for jobs in the aviation sector, and how a "just transition" is discussed internally
– Carlos Martínez, ES, member of the Secretary of Environment from CC.OO., on experiences with the coal transition in Spain, and on how the Spanish Union Confederation envisions a just transition for tourism and aviation
– Jonathan Essex, UK, presenting a concrete just transition plan for shifting jobs from Gatwick airport, called "Green New Deal for Gatwick"
– George H., UK, pilot, & Finlay Asher, UK, aviation engineer, from the aviation worker's initiative "Safe Landing", sharing their personal stories and presenting their ideas on a just transition.
---
Aterrizaje seguro: Cómo organizar una transición justa con trabajadoras y trabajadores de la aviación y el turismo
Viernes 30 de Abril, 3-5 pm Londres I 4-6 pm Madrid I 9-11 am Ciudad de México
Con interpretación inglés-español
Por favor registrarse aquí hasta el 29 de abril
Debido a la Covid-19, el transporte aéreo se ha visto reducido enormemente, lo que conlleva enormes dificultades para las plantillas del sector. Sin embargo, para hacer frente de manera eficaz a la crisis climática, la aviación y el turismo de masas representan sectores que deben ser limitados en el largo plazo. ¿Cómo podría organizarse un proceso de transición que asegure la recolocación de puestos de trabajo? ¿Cuáles son los obstáculos y las lecciones aprendidas de la transición del carbón?
– Magdalena Heuwieser, DE, Stay Grounded & Pablo Muñoz Nieto, ES, Ecologistas en Acción, presentarán el nuevo documento de debate "Transición justa de la aviación"
– Eoin Coates, UK, Responsable de Aviación en la Federación Europea de Trabajadores del Transporte, compartirá los planes a largo plazo de los sindicatos para gestionar los puestos de trabajo del sector de la aviación, así como el debate interno sobre una "transición justa"
– Carlos Martínez, ES, miembro de la Secretaría de Medio Ambiente del sindicato español CC.OO., reflexionará sobre las experiencias de la transición del carbón en España y sobre cómo la Confederación Sindical Española prevé una transición justa para el turismo y la aviación
– Jonathan Essex, UK, presentará un plan concreto de transición justa para el traslado de puestos de trabajo del aeropuerto de Gatwick, llamado "Green New Deal for Gatwick"
– George H., UK, pilot & Finlay Asher, UK, ingeniero de la aviación, de la iniciativa de l@s trabajador@s de la aviación "Safe landing", comentarán sus experiencias personales y sus ideas para una transición justa