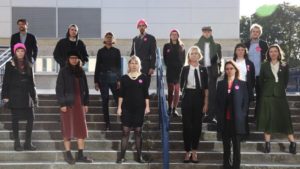 Stay Grounded stands in solidarity with the Stansted 15. The 15 are nearing the end of a gruelling 8-week trial in Chelmsford, having taken nonviolent direct action to stop a deportation charter flight to Nigeria from taking off in March 2017. For this action, which highlighted a brutal and little-known aspect of the UK's border regime, they are facing charges of terrorism which could result in life imprisonment.
Deportation charter flights are a particularly horrific aspect of the UK's hostile environment for migrants, which also includes immigration detention centres, raids, signing at the police station and keeping people in a limbo of uncertainty over their future – often for years. People deported on these flights are snatched from their communities and families – without due process and without time to challenge the deportation through legal means. According to Corporate Watch:
"Up to 2,000 people a year are loaded onto these secretive night flights, often shackled in "waist restraint belts" or "leg restraints". Deportees are manhandled by private security "escorts" (working for Mitie) onto aircraft hired from charter companies.".
The Home Office wants to get its money's worth out of each charter flight, so people are racially targetted to fill a flight; and more people are booked onto a flight than can fit, in case anyone manages to secure a last-minute injunction on their deportation, adding to the uncertainty and trauma people are already experiencing at the hands of the UK border regime.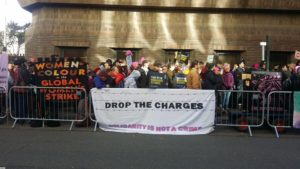 The Stansted 15 were acting to prevent this form of state terrorism. Their Action has brought much-needed attention to the border regime and has resulted in at least one person who was on that flight receiving "leave to remain" in the UK. Eleven more people are still here and waiting for their claims to be processed – a chance that would have been taken away from them had this Action not happened. Some of the people on this flight were facing persecution and death if deported, some were victims of trafficking and many had ongoing asylum claims in the UK.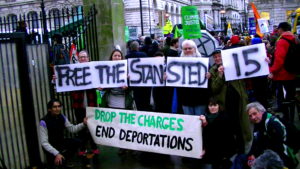 We see the impacts of the UK's hostile environment in our communities every day and it is only when people come together to challenge it that we feel the cracks opening in this unjust system. The Stansted 15's action was incredibly important, not only for the people on the 'plane, who were able continue with their asylum claims but also for what it represented and the ideas and conversations that have come out of it. People can stop charter flights from taking off; we can dismantle the hostile environment and treat refugees and asylum seekers with the respect and dignity they deserve. This wasn't terrorism, it was a practical display of solidarity with people going through the immigration process and a reminder to us all that we can and should be building a fairer world.".
They are still short in their crowdfunder appeal.
*****
This statement was originally posted on the Homepage of Rising Tide UK