How we work
Our network consists of different organisations, activist groups and individuals from around the world (with currently most members in Europe but also regional networks in Latin America and the Caribbean and South-/East(ern)-Asia). It is coordinated by the Turtles group. Much work is being done voluntarily, while some is being paid, especially from the part-time campaigners. Decisions that concern the whole network are taken in a consensus-based way. Since 2017, we have been organizing network meetings once or twice a year. The in-person meetings (until now always in Europe) allow for online participation, since we find it important that no one flies to the meetings.
Read more in our network structure and protocols – the basis for our common work.
Being a member group or organisation means
You are part of our Stay Grounded e-mail list and provide an active spokesperson. We expect list members to share all significant information and report back to their groups.
You're invited to participate in our consensus-based decision making and in our activities (network meetings, actions, etc.)
You help us spread our position paper, make it visible on your website and try your best to work towards the vision presented in the paper
Your organisation's logo is included in our "members" section of the website, as well as a link to your website. If you as a local anti-aviation group don't have a website but would like to have a site for your group, we offer you a subpage.
You actively encourage further organisations/groups etc. to join
You receive a yearly report that informs members of the network's activities
Participation by Individuals
Individuals who support our work and our position paper may sign up for our email lists and participate in network meetings. We assume that everyone is giving their ideas/input/analysis as individuals unless they specifically state that they are representing the opinion of their member group.
Member Contributions
Members support the network with financial contribution of 20-100€ per year (or more or nothing). Having this said, we are well aware that our network also includes many small organizations whose financial situation does not allow them to contribute financially. If possible for your organization, please transfer the member contribution to:

Recipient: Periskop // Stay grounded
IBAN: AT491420020010980039
BIC: BAWAATWW
Purpose: Member C [your organisation]

You can also donate via credit card, paypal and direct debit using this form. Please indicate Member C [your organisation] as your purpose.

If you need a bill, please write us an email to office[at]kollektiv-periskop.org with your address and the amount you want to donate.
Our email-lists
 So far, there are the following email lists:
stay-grounded[at]lists.riseup.net

a low volume, moderated email list for decisions that concern the whole network, invitations to network meetings, etc. At least one spokesperson from each member group is on this lists to make sure all members can take part in the network's decisions.
contact: info[at]stay-grounded.org

sg-discussion[at]lists.riseup.net:

an optional, unmoderated email-list, you may unsubscribe at any time, with space for exchange of more information which all spokespersons can but don't have to follow
contact: info[at]stay-grounded.org

rester-sur-terre[at]lists.riseup.net:

an email list for French communication between members and individuals supporting Stay Grounded in France
contact: rester-sur-terre[at]stay-grounded.org

stay-grounded-iberian[at]lists.riseup.net:

an email list for Spanish/Portuguese communication between members and individuals supporting Stay Grounded on the Iberian Peninsula
contact: aviacion[at]ecologistasenaccion.org

sg-uk[at]lists.riseup.net

an email list for communication between Stay Grounded members and others working on aviation in the UK
contact: uk[at]stay-grounded.org

sg-latinoamerica-caribe[at]lists.riseup.net

an email list for communication between members and representatives in the process of joining the network. contact: daniela[at]stay-grounded.org
Our online library
We have a shared open-source cloud for materials for members (eg. communication resources), documents for working groups, sharing of lessons learned and scientific papers etc. All members have their own account and can login via cloud.stay-grounded.org or via the "Section for Members" on our website (–>get active –> Engage in the network –> Section for members). In case you have any questions please contact: anne[at]stay-grounded.org
Our social media accounts
@StayGroundedNet is on Facebook, Twitter, Instagram and Mastodon and has a Youtube and Flickr account. Please like and share and join our Telegram Channel!
If you have information that you would like us to share on our accounts, send our accounts a direct message or write to: samie[at]stay-grounded.org or manuel[at]stay-grounded.org.
The Turtles

are a coordination group, consisting of at least 4 spokespeople from our members or individual Stay Grounded members. They are "elected" (through asking for objections) at each annual network meeting.
have an online call about once a month and a separate coordinating email list.
function as advisory board for the Campaigners, maintain oversight over network processes and
guarantee that the process continues, that decisions are implemented and have an overview of what needs to be done.
take minor decisions if they are necessary for a process to start/continue, in case it would be annoying for the whole network to be consulted.
Members are invited to give feedback to the Turtles and Campaigners. Only through constructive critique and support can the network can grow stronger.
Find the current Turtles here

Contact: turtles[at]lists.riseup.net
Regional Stay Grounded Groups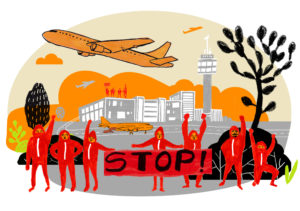 In some countries, several Stay Grounded members got/may get connected, form their own email lists or even undertake joint activities that are backed by the Position Paper as Regional Stay Grounded Groups. To guarantee the information flow and their integration into the network activities all Regional Groups:
are encouraged to designate one representative as member of the Turtles in a democratic process.
alternatively (in case of lacking capacity for Turtles participation) they must designate a delegate (and if wished an alternate) to participate in Turtles+ calls (= call with Turtles + regional Delegates, taking place every two months), to exchange information about what is happening in the active regions, and in the Stay Grounded network. The delegate is responsible to feed relevant information from the Turtles+ Calls back to the Regional Network and vice versa.
The Campaigners

The current campaigners of Stay Grounded are Magdalena Heuwieser and Mira Kapfinger who founded the network, as well as Anne Kretzschmar, Daniela Subtil, Manuel Grebenjak, Michaela Leitner and Samie Blasingame. They are employed in Vienna at the small NGO Periskop. They are bound to the decisions taken by the network members, and are part of the Turtles team.
Find more information on our campaigners team here
Read more about the history of our network here